LuLu's Boutique in Downtown Bend has the slogan, "The Cutest Clothes on The Planet!" –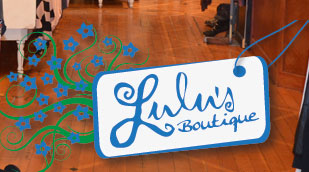 and they aren't kidding.  LuLu's is the largest locally-owned women's clothing store in Bend, and they offer the cutest clothes at very reasonable prices.  From dresses to tights, T-shirts with funny messages, and amazing accessories & jewelry, you are guaranteed to find something you love when you visit LuLu's. 
LuLu's Boutique is owned and operated by Patti Orsatti.  Patti is simply delightful.  Warm, welcoming, and professional- it is clear that Patti knows her business.  Her store is unique, clean and charming, the products are carefully (and lovingly) selected and displayed, her "store-family" (employees) meticulously selected, and – most of all- her customer service is exemplary.
I had the gift of hanging out in LuLu's last week and I was delighted by the welcoming
environment and the attention I saw shown to customers.  It seemed to me that each customer was an old friend.  Patti and her staff would suggest things for them, sit and chat with them while they were trying on clothes, take names and numbers to call customers when something specific arrived.  It was incredible.   I also discovered that they offer alterations on any of the clothes they sell, working in collaboration with A Better Alteration just down the street.   (I love hearing about community win-win's!)
Patti moved to Bend in 2007 from San Diego, where she was selling Real Estate.  One day she was shopping downtown, and on a whim she said to a store owner, "If you are ever thinking about selling, I'd love to buy this place."  The store owner gushed that she was wanting to sell – and just like that Patti became the owner of a retail clothing store (something that she had zero experience in).  Her lack of experience didn't daunt her, though, instead she hit the ground running and discovered that she had innate gifts for the job.  Expanding 3 times in 5 years – LuLu's now covers the space that was, at one time, three different stores.  We couldn't be happier that she did!  We now can boast about the largest women's clothing store in Downtown Bend.
Keep up to date with LuLu's by following them on Facebook and Instagram – and make sure to visit them at 150 NW Minnesota in Downtown Bend.